Accel Product Information and Details
DR. INJECTOR is your ACCEL Emic System Sales & Installation Center, featuring complete Lap Top Programmable Port Injection Systems and Accessories.
ACCEL Performance Injectors
These are ACCEL's highest flowing, high impedance injectors. Still compatible with the OE computer injector drivers.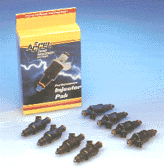 They also provide a full 30 degree of cone spray angle which results in excellent atomization of fuel, improved fuel economy and throttle response.
The Performance Injectors are also the new anti-plugging type which will forever eliminate problems that were once associated with carbon build up.