MSD Product Information and Details
Performance Electronic Fuel Management
A performance EFI system is only as powerful and reliable as its injectors. Elaborate engine management electronics are useless if the injectors they control can't accurately meter fuel on command. MSD Competition electronic fuel injectors are available in flow rates to power high performance and racing engines from 250 -- 1300 HP (V8).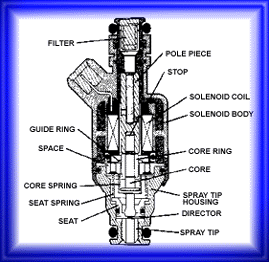 Made in U.S. by AC Rochester, they are engineered and manufactured to racing specifications for tough high-performance conditions in auto, motorcycle, and marine applications. These "top feed" injectors feature:
Pre-testing to establish excellent linear fuel flow from narrow to wide pulse widths: thus ensuring accurate fuel metering at racing conditions and revolutions per minute (RPM).


MULTEC® metering design with a stainless steel "ball and seat" fuel metering method. This design creates a superior fuel charge flow, and maximum internal sealing with consistent fuel delivery along the engine's RPM band.


Injector metering orifice of 6 holes to produce a totally atomized and compact 10 -- 15 degree spray pattern. These recessed delivery holes resist fuel clogging and injector deposit formation, so no injector cleaning is ever required.


High fuel flow rates and standard injector driver requirements that are compatible with stock, high performance, and racing EFI control units. Fuel flow rates are set and calibrated by computer-control during manufacturing to guarantee precise flow volume and rate.